Endorsements
State Endorsements
Dave Yost
Ohio Attorney General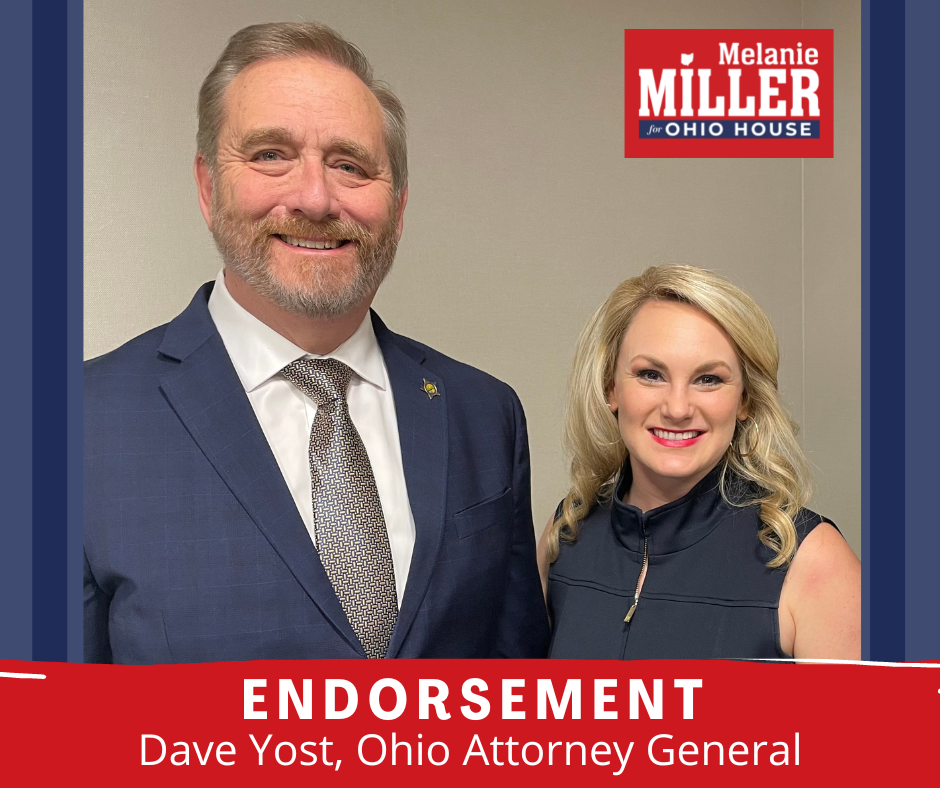 "I trust Melanie Miller because she shares our Heartland values—and our work ethic! No one will work harder.
She has my complete and total endorsement!"
Frank LaRose
Ohio Secretary of State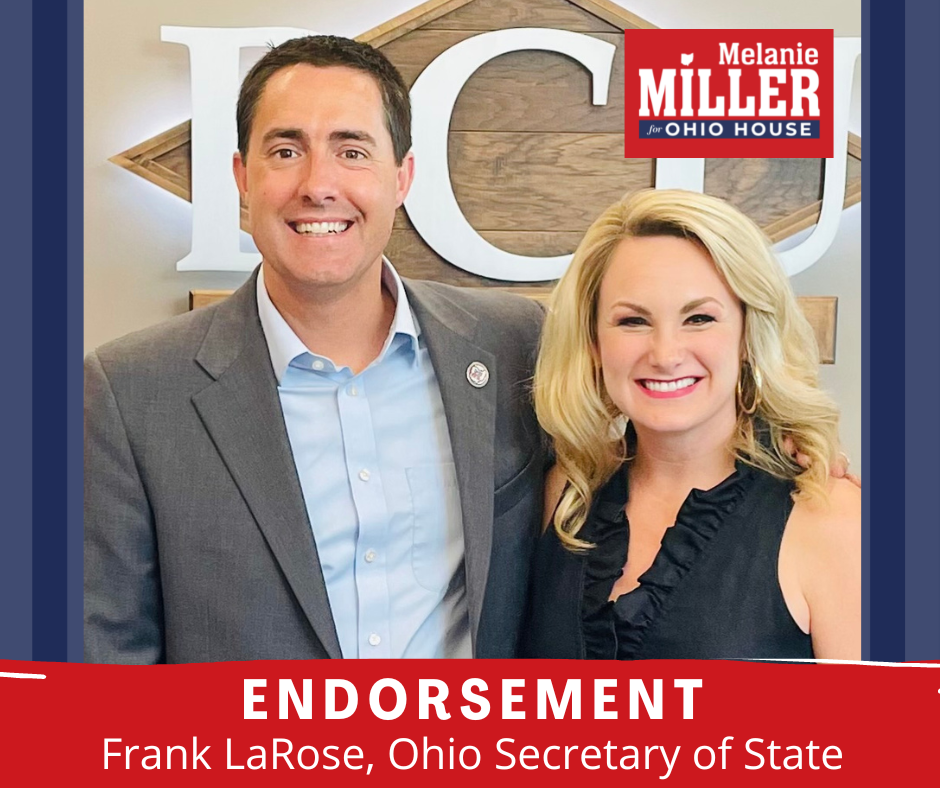 ---
Mark Romanchuk
State Senator - District 22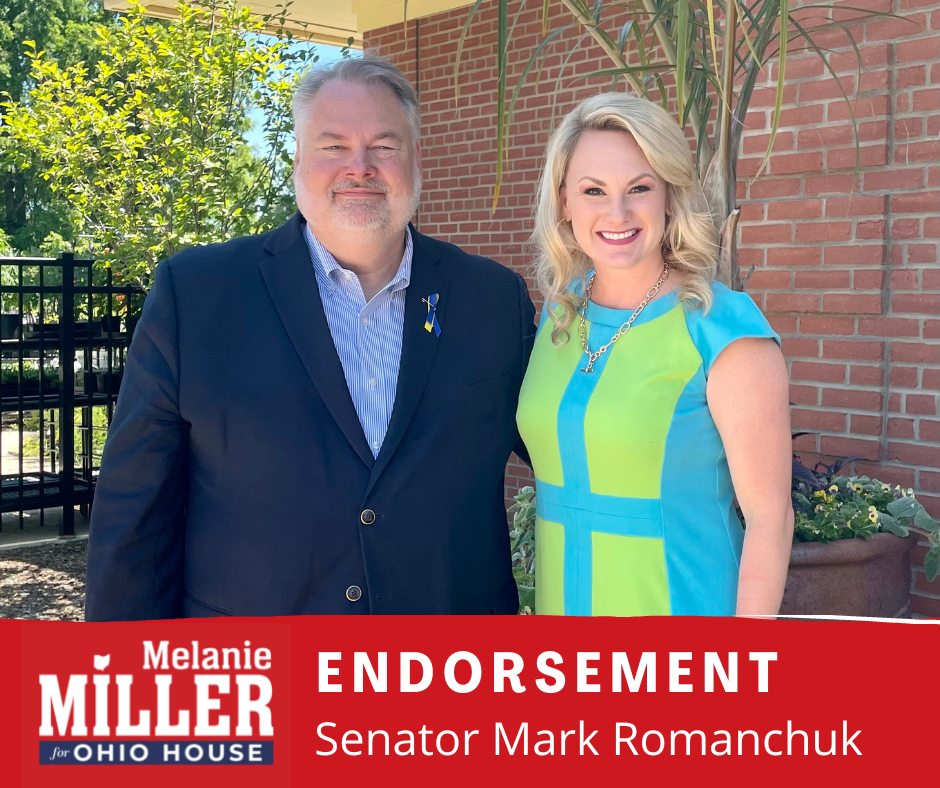 "Melanie Miller has been a steadfast conservative leader in Ashland County for years and will make an outstanding state representative. She is the most dedicated and qualified candidate who will fight for the conservative cause every day in Columbus. I'm proud to endorse her candidacy and hope that the people of Ashland and Medina Counties will give her their vote on August 2nd."
Darrell Kick
State Representative - District 70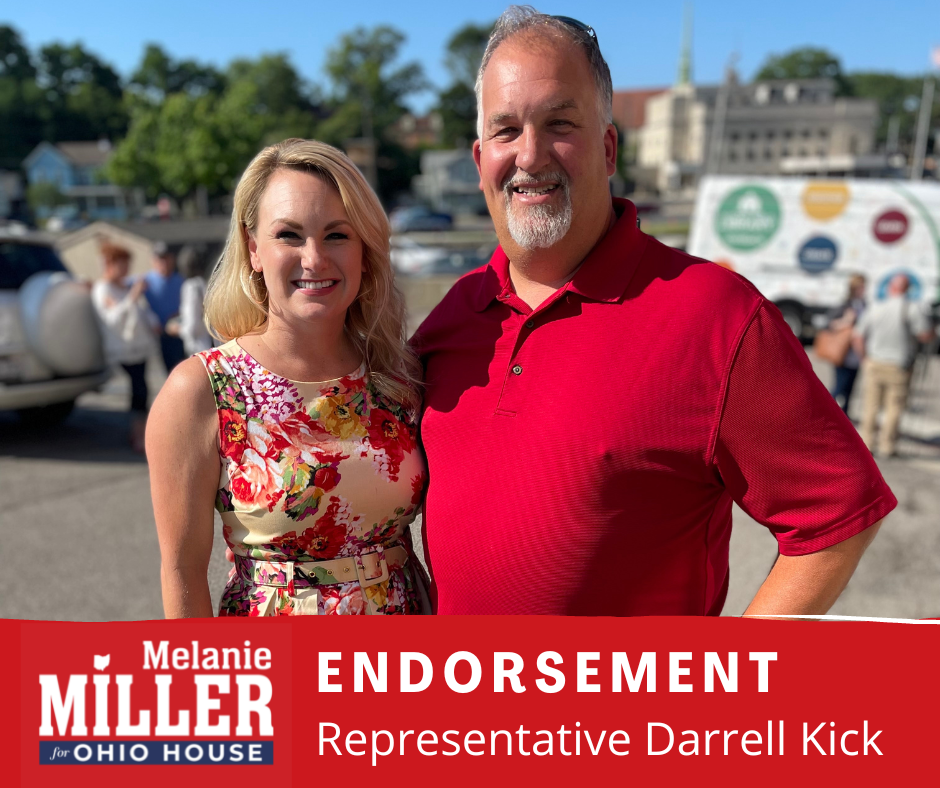 "After serving Ashland County and parts of Medina County for the past decade in two different capacities, I know what the district needs and Melanie Miller has what it takes to lead this district. Melanie has shown a strong commitment to the needs of others in and around her community, with the right amount of toughness and compassion that gets things done. It is with great confidence that I endorse her and encourage the voters of this district to vote for her in the Aug 2nd primary and again in the November election."
Kristina Roegner
State Senator - District 27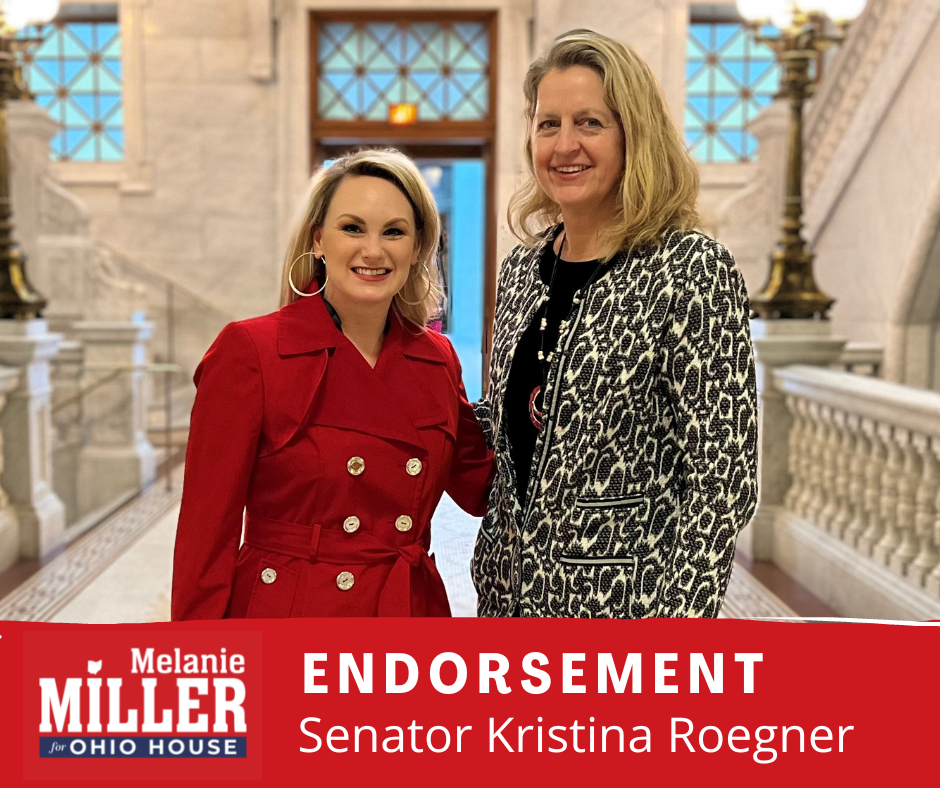 "We need more strong principled conservative women in the Ohio legislature. Melanie Miller will not waver, she will fight for what is right. I am proud to endorse my friend, Melanie Miller, for whom I have the utmost respect, for the Ohio House of Representatives."
---
Local Endorsements
E. Wayne Risner
Ashland County Sheriff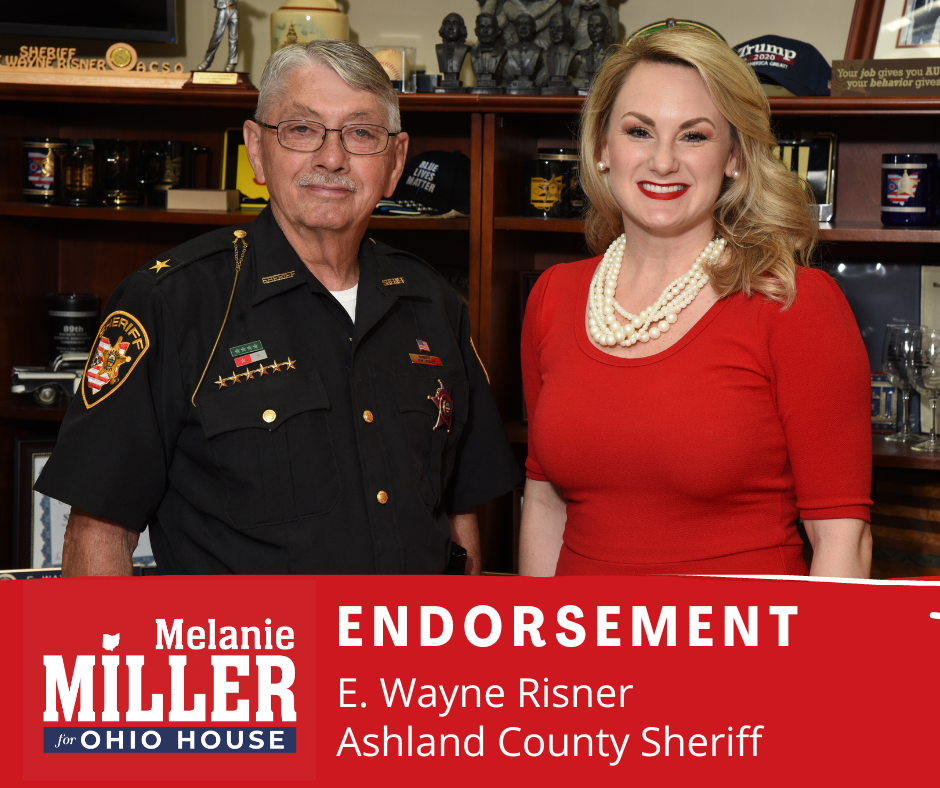 "I sincerely hope the people of Ashland County will join me in voting for my friend Melanie Miller for State Representative on or before August 2nd. Now, more than ever, we need conservative Republicans who will fight to DEFEND law enforcement from the liberal Democrats who want to DEFUND us. Melanie Miller has earned my endorsement for state representative because of her unwavering support for our men and women in uniform. She will serve the people of our community with distinction and I am proud to support her candidacy."
Denny Bittle & Mike Welch
Ashland County Commissioners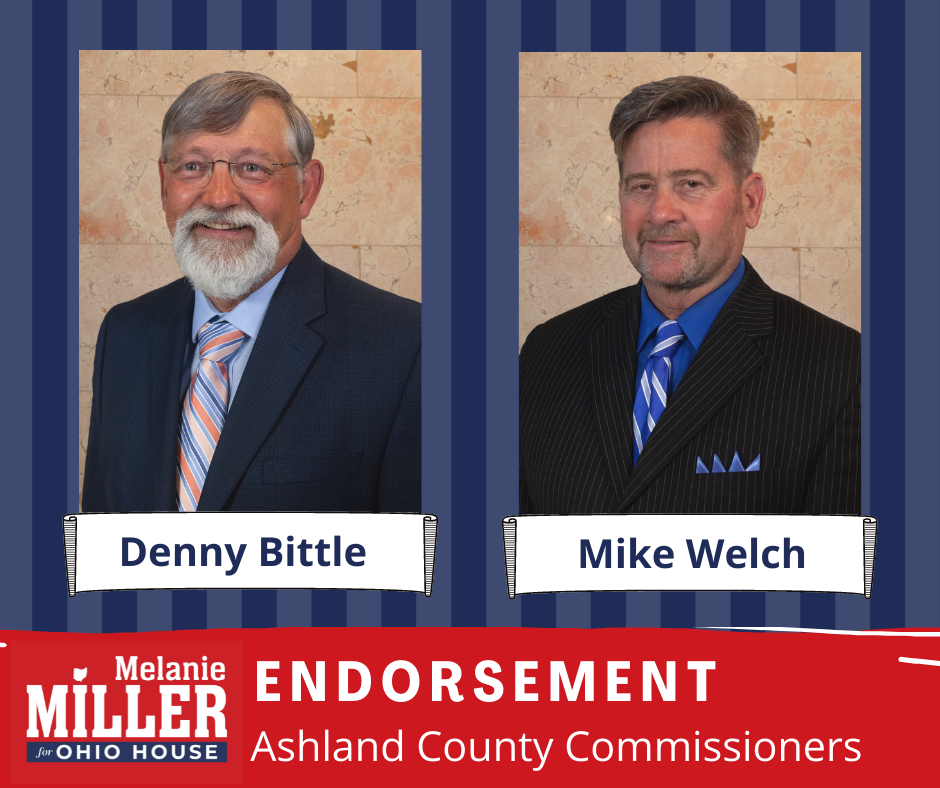 Jason VanSickle
Mayor of Loudonville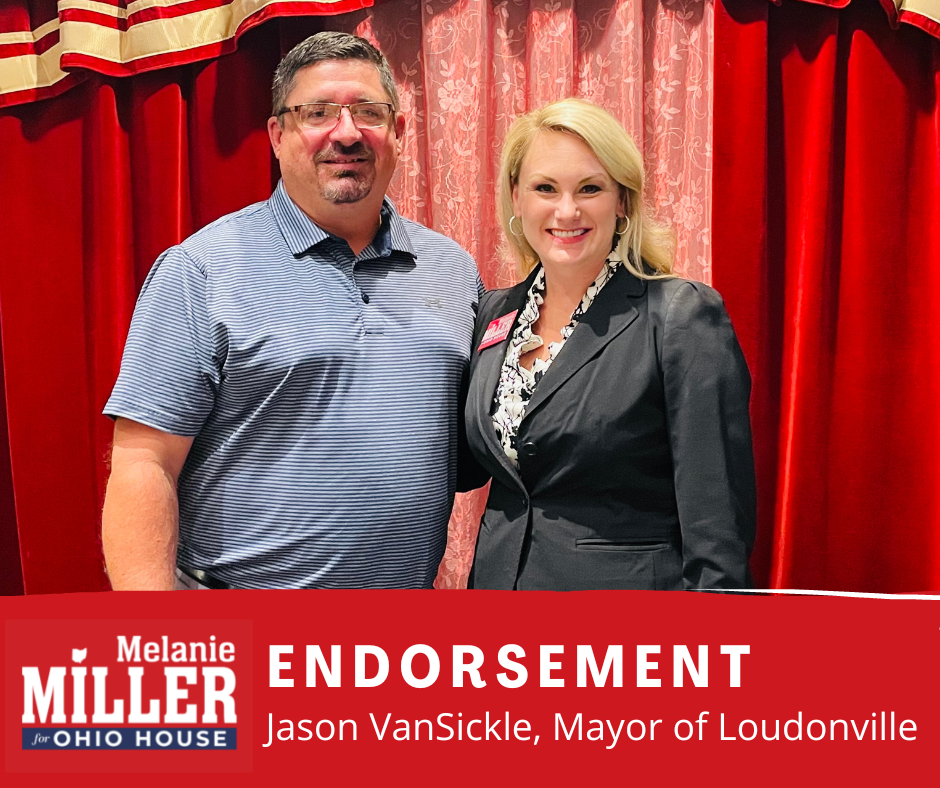 "I want to formally endorse Melanie Miller for State Representative. She will be a lifeline to Columbus for our local communities and fight for conservative values in our part of the state. It will be nice to have both an ear to the ground and a fighter in Columbus. Please join me in August in nominating Melanie Miller as our Republican candidate."
Matt Miller
Mayor of Ashland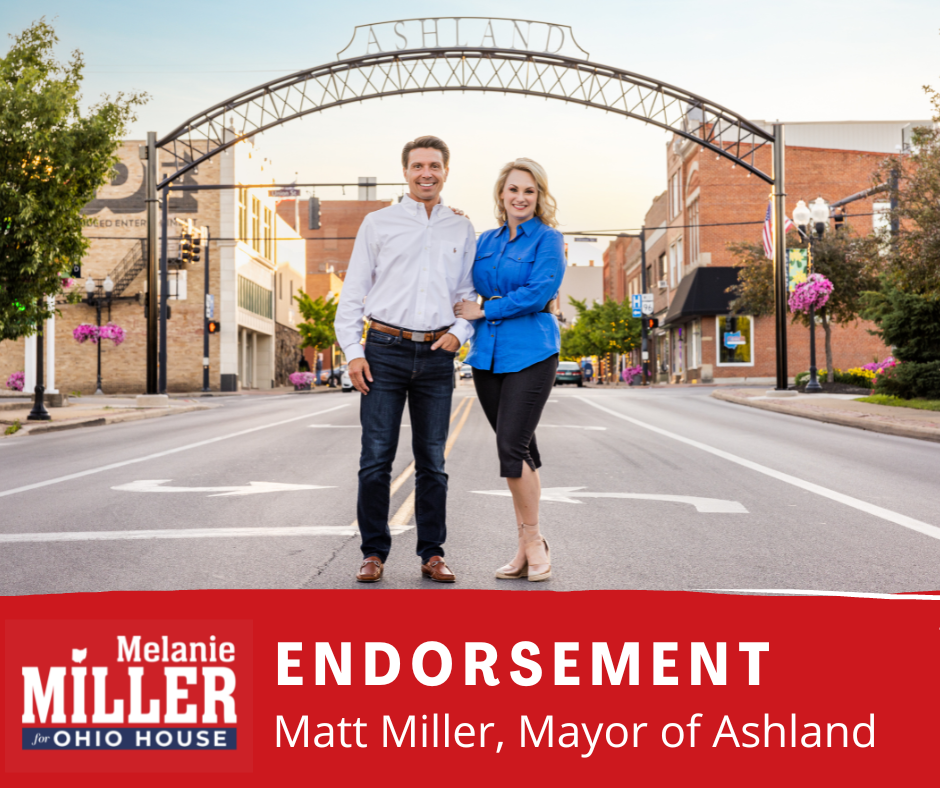 ---
Steve Workman
Ashland City Council President
Ward 1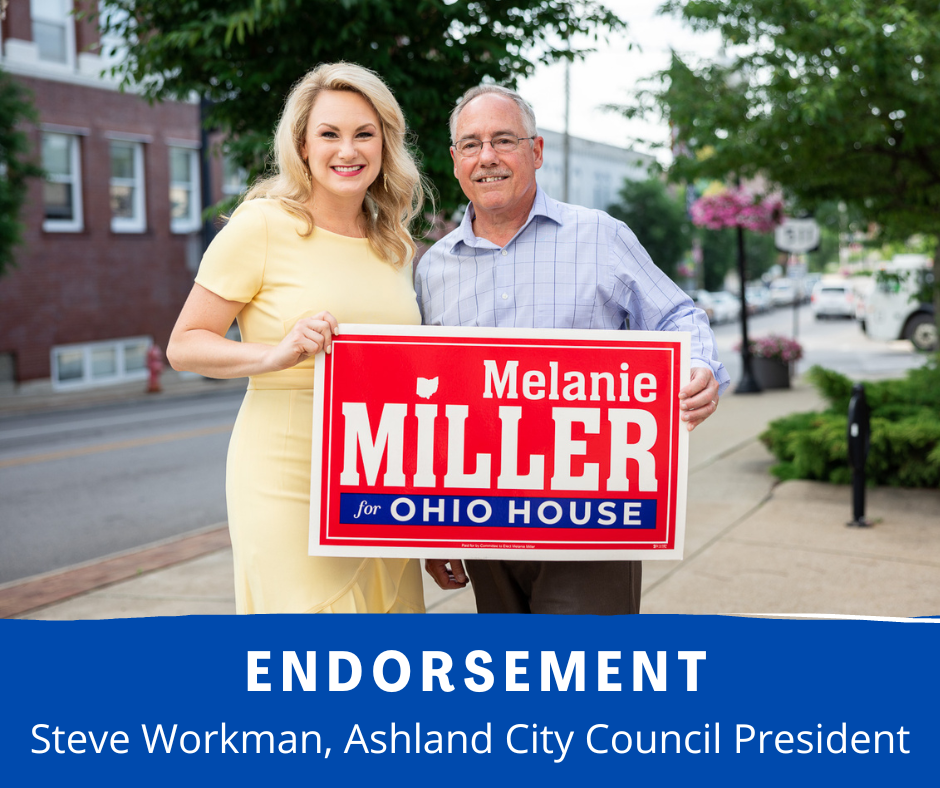 "I whole heartedly endorse Melanie Miller for the 67th District House of Representatives. Mrs. Miller is a person of true moral conviction who will take a tireless stance in support of conservative values. Melanie Miller will be our voice for Faith, Freedom, and Family in the State House."
Jason Chio
Ashland City Council
Ward 2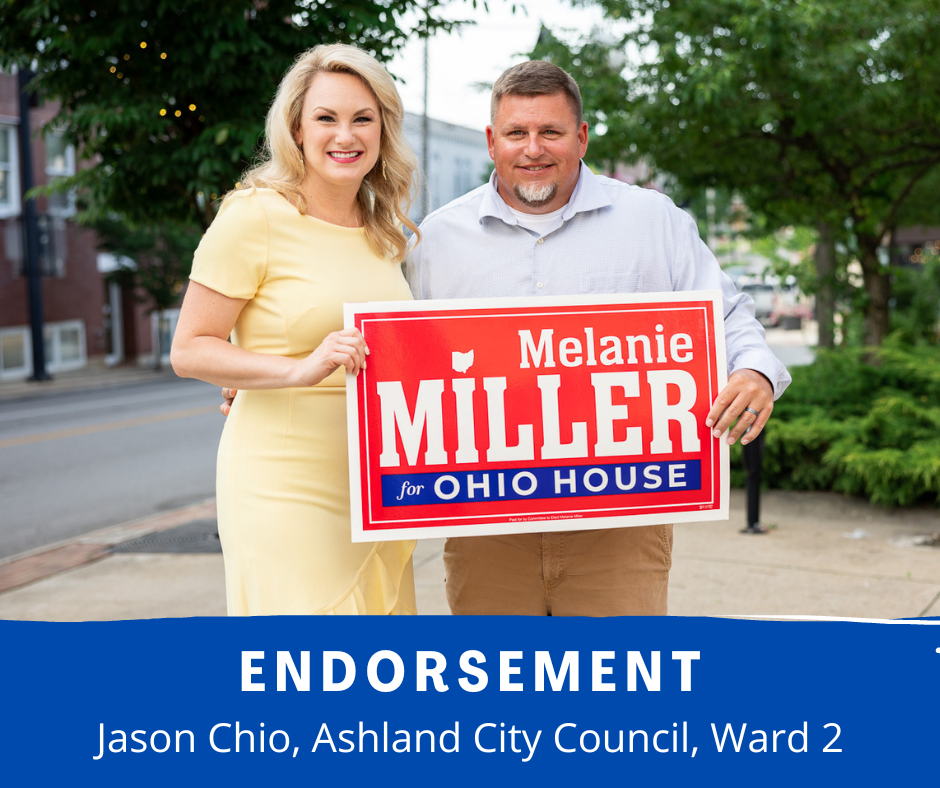 "I wholeheartedly endorse Melanie Miller for the Ohio 67th district House seat; she is an absolutely fantastic person and will truly represent every one of her constituents."
Dennis Miller
Ashland City Council
Ward 3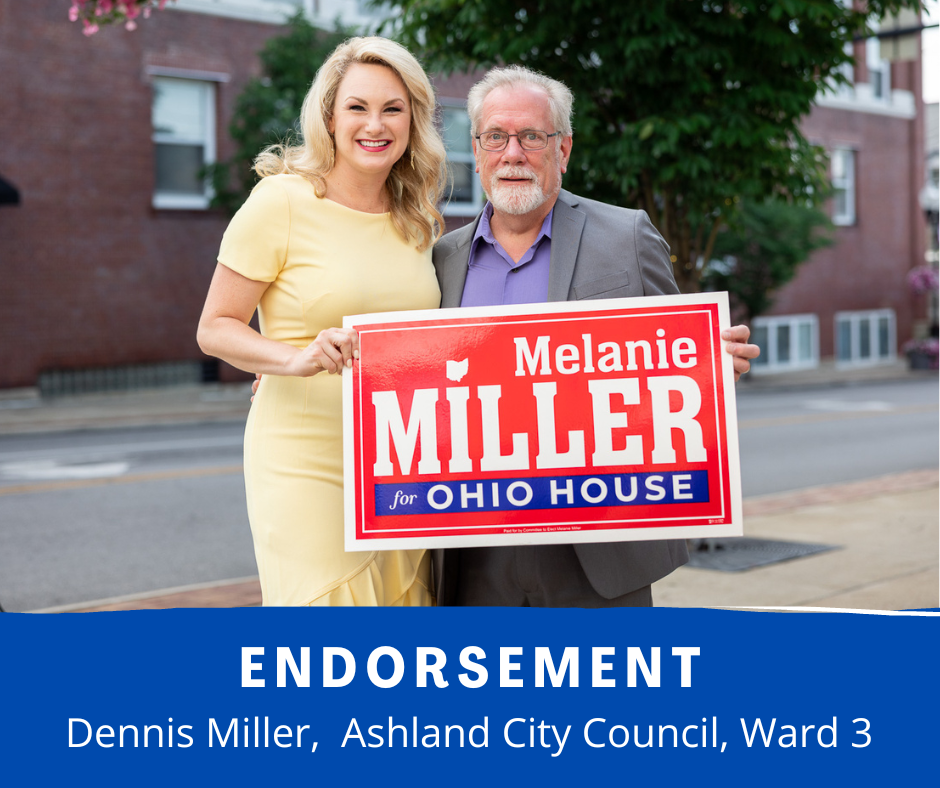 "I whole heartedly endorse Melanie Miller's campaign to become the next State Representative of Ohio for our district. I have known Melanie for over 10 years, both personally and in her capacity as Executive Director of the Ashland Pregnancy Care Center. I can attest that Melanie is someone who is always sincere, honest and who exudes integrity. Melanie is a hard worker who has the utmost respect of all who know her. Melanie is a Christian and one who will make sure that she upholds her solid conservative values when representing her constituents in the Statehouse. We could not ask for a better person to be our voice in the State Capital than Melanie Miller!"
Angela Woodward
Ashland City Council
Ward 4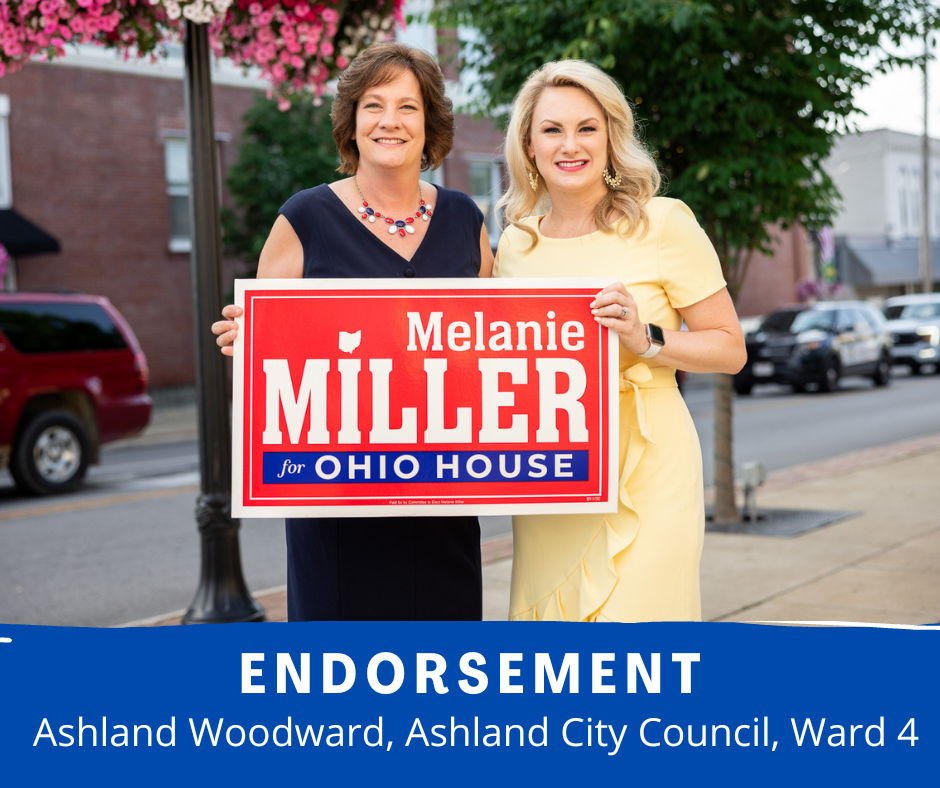 "Proudly, I endorse Melanie Miller for the Ohio House of Representatives District 67 seat. In all, Melanie exemplifies the highest integrity, honesty, and genuine love of human life. I am confident that her credentials as a dedicated public servant and her passion for serving the Lord allow her the necessary attributes needed to represent and advocate for us in Columbus. Vote Melanie!"
Dan Lawson
Ashland City Council
At-Large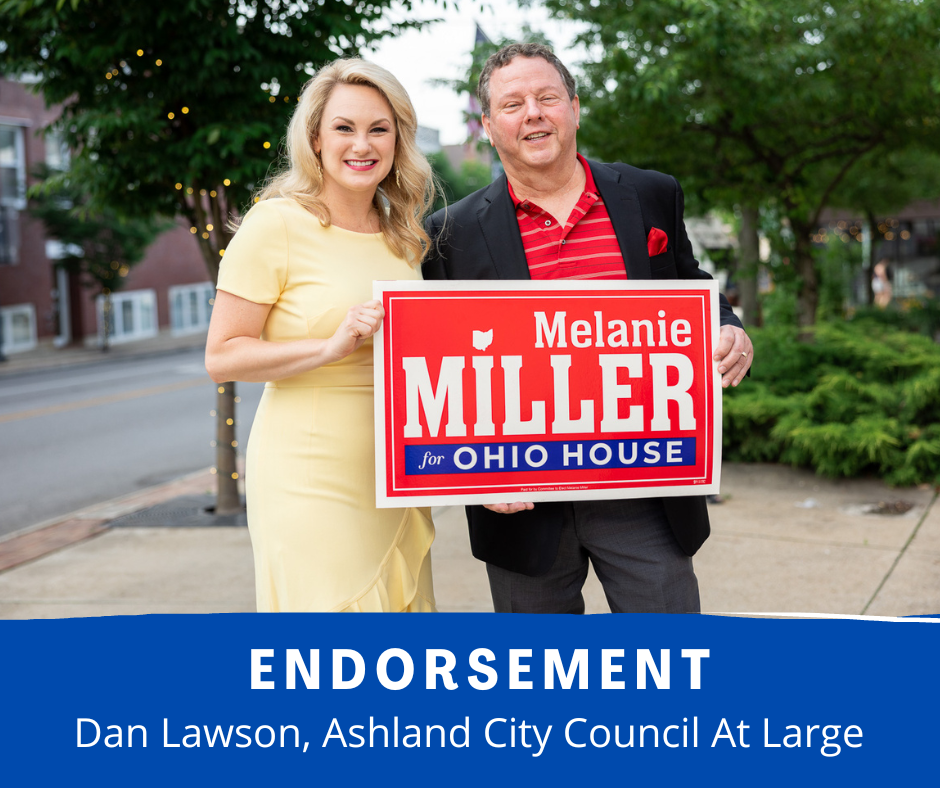 "It is my great honor to endorse Melanie Miller for the Ohio Statehouse seat in the 67th District. Her sincerity, courage, and commitment to the people of Ohio is beyond comparison. As a Representative she will make sure that our rights and freedoms are protected, our community needs are met, and our economy will thrive. I can think of no one who can represent us better than Melanie Miller."
Matt Young
Loudonville Village Council
President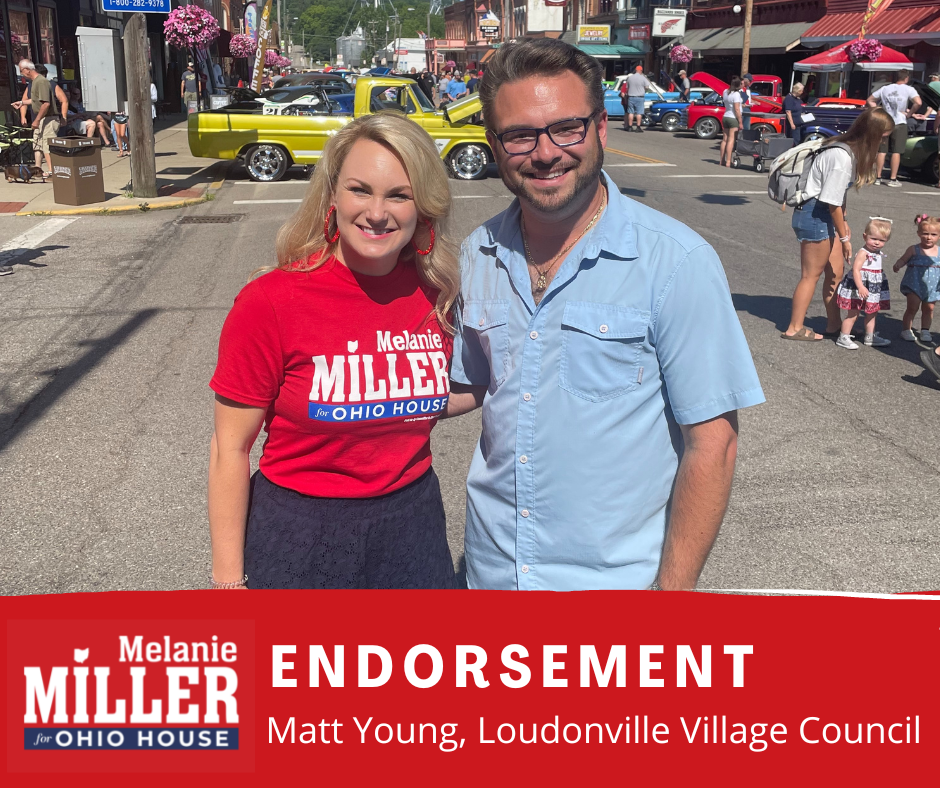 "I believe that Ashland County has a good candidate in Mrs. Melanie Miller. Her faith-based life and steadfast devotion to Conservative values will serve her well in this race, and as who I believe will be our next representative. I wish her the best, and offer her my full support. In a political world where attack ads are the norm, I am happy to say that Melanie and I remained positive, cordial, and above all, friends. This was a mutual agreement from the very beginning, and it remains to this day. I am happy to endorse her in this race, and ask that my supporters consider a vote for her."
---
Education


Pamela Mowry
Ashland City School Board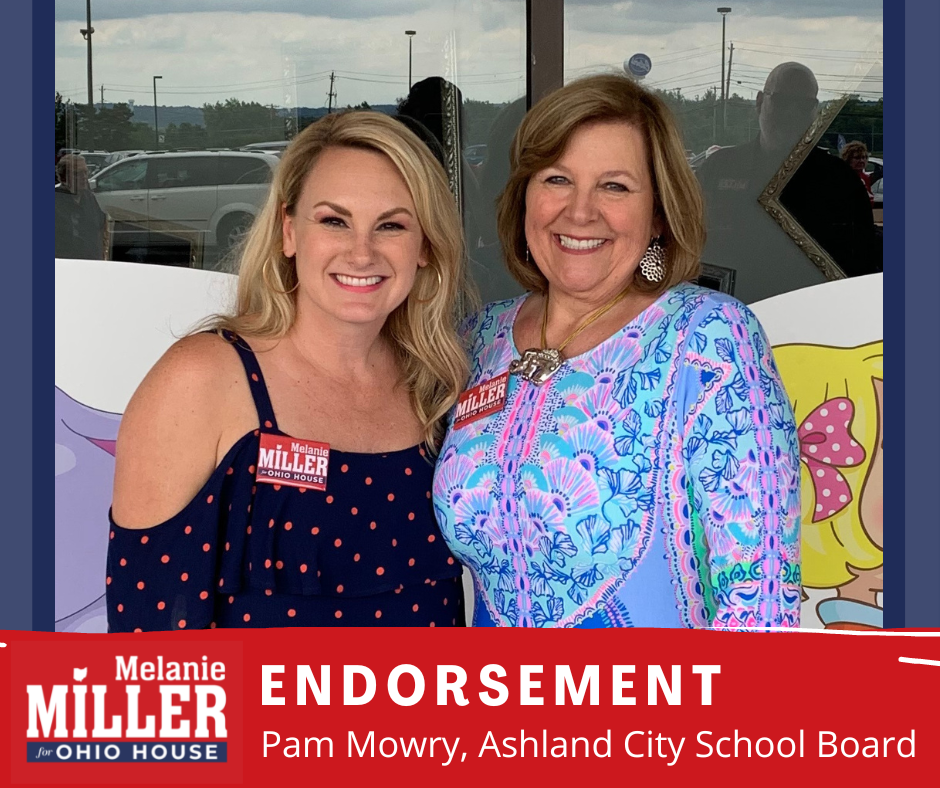 "It is my honor to endorse Melanie Miller for this Ohio House seat. I have known Melanie for more than 20 years. She will represent the strong conservative values of the district. She has spent her entire career working for those values. Melanie never waivers. She is smart, she is caring, and we are blessed by her candidacy."
Brandon Wells
Ashland City School Board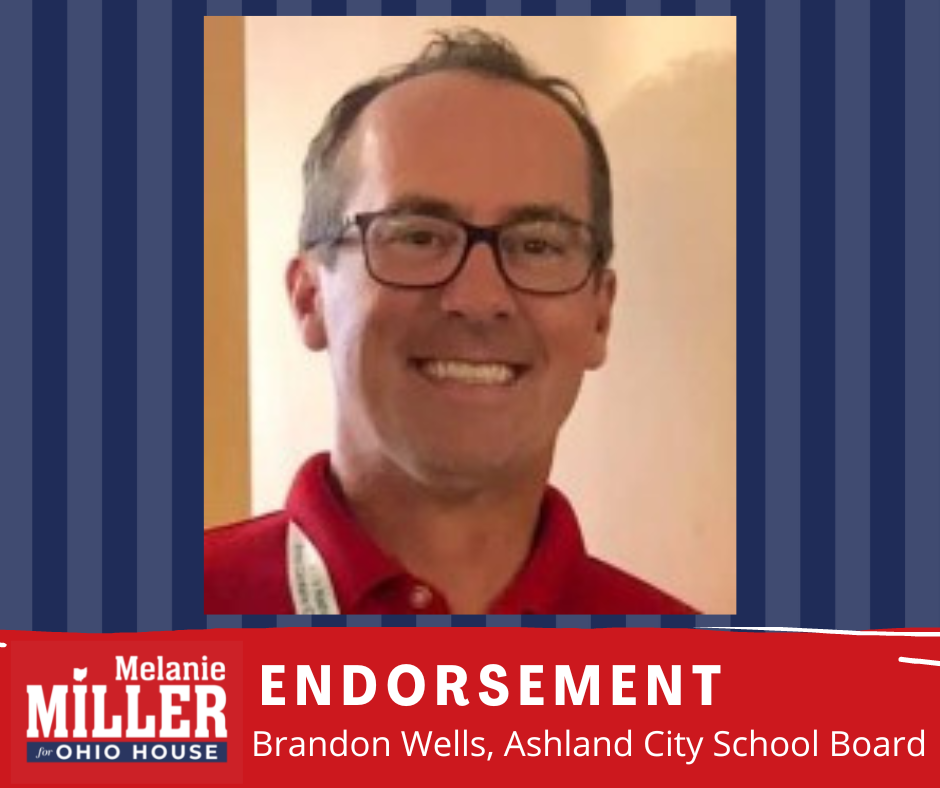 "Ohio needs more leaders like Melanie Miller, smart, dedicated, committed to doing what is right regardless of political pressure or outside forces. Melanie will serve our region, and our state as an outstanding representative of our collective values and principles, from her strong executive leadership to her compassion for those on all ends of the socioeconomic spectrum. One of the key issues facing our state and our region continues to be improving and supporting public education in a financially viable manner. Melanie Miller has shown her commitment to education and the importance of a high quality education throughout her years of serving our local community. I strongly endorse Melanie Miller as the next state representative for our district."
John Teevan
Ashland City School Board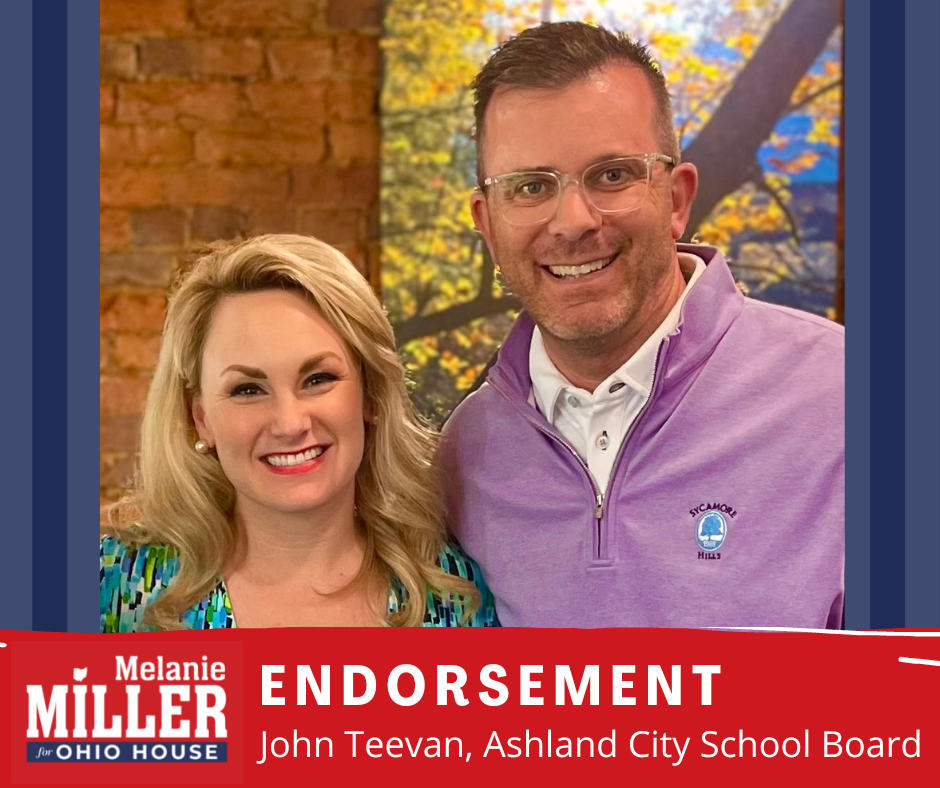 "It's vital that we vote our values, so I'll be voting for Melanie Miller to represent Ashland County for the Ohio House of Representatives District 67 seat on Aug. 2. Melanie seeks out new ideas and different perspectives, weighs the alternatives, considers possible outcomes and develops reasonable positions. She's approachable and engaged, and genuinely committed to serving the Ashland and Medina communities. Please join me in voting for an energetic, committed leader who will ensure northeast Ohio has a strong voice in the Ohio Statehouse."
Gina Deppert
Ashland City School Board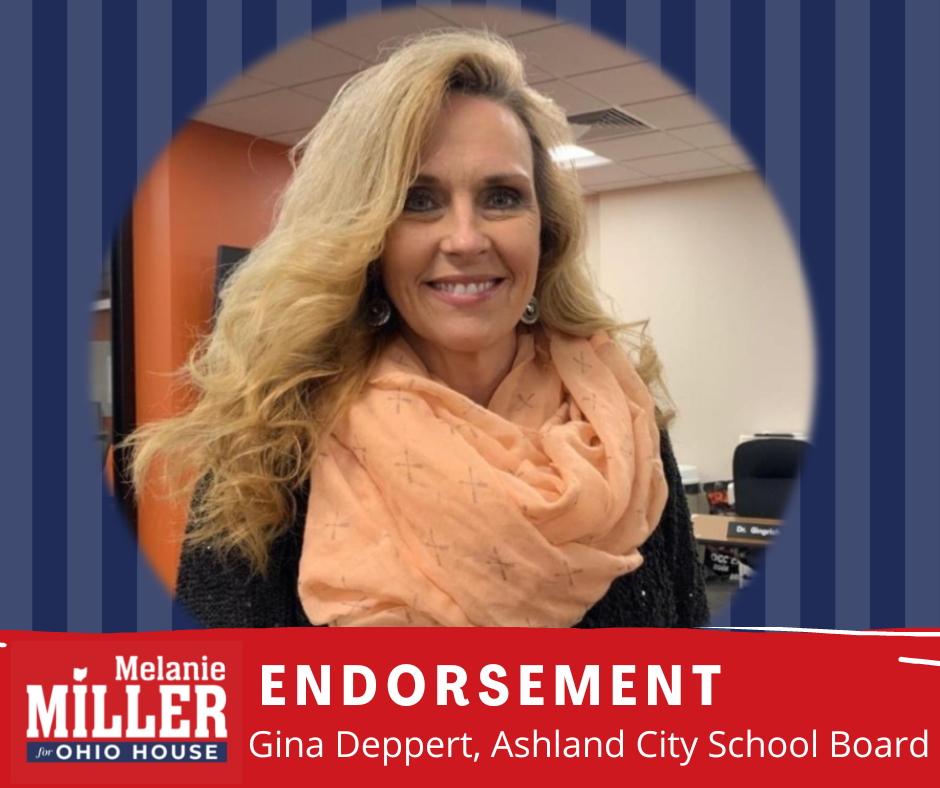 "I am excited for the opportunity to endorse Mrs. Melanie Miller for the Ohio House of Representatives District 67 seat. Mrs. Miller will serve Ohio with loyalty, leadership, and commitment. She has the experience Ohioans deserve to make Ohio stronger than ever before. Mrs. Miller has served in executive roles throughout her career successfully, and will be the member for the House that will follow through with solving challenges facing our Buckeye state! Ohio needs and deserves Melanie Miller for a brighter future and stronger tomorrow!"
---
Business & Community Leaders
Bill Chandler
President, Chandler Systems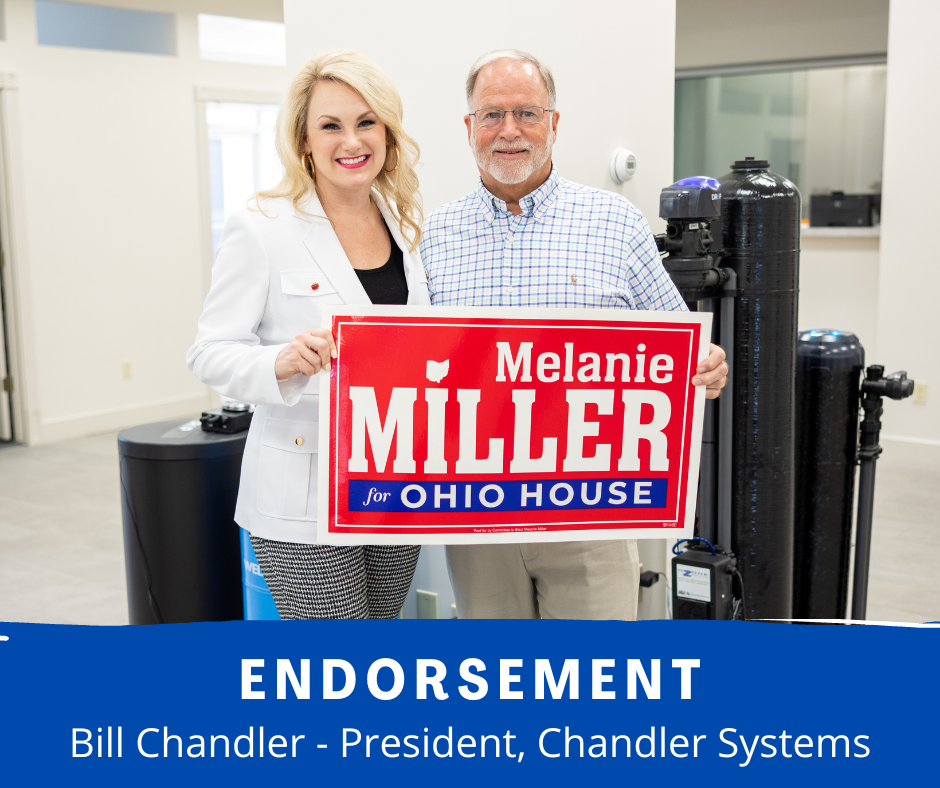 Steve Arters
Arters Farm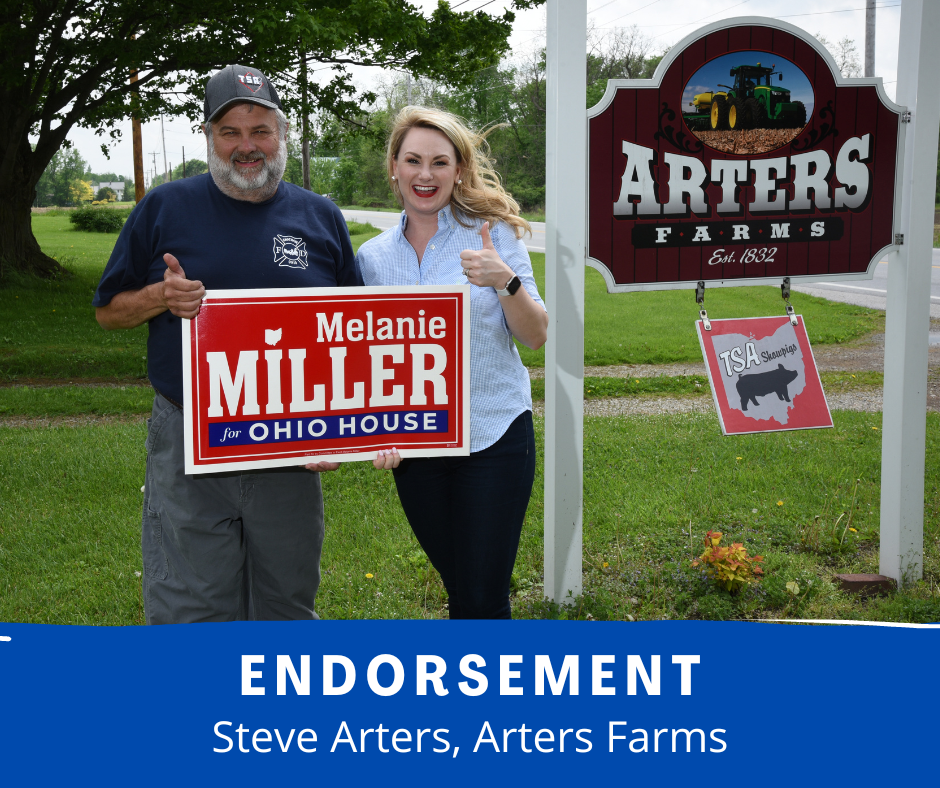 Ben Uselton
President, BCU Electric, Inc.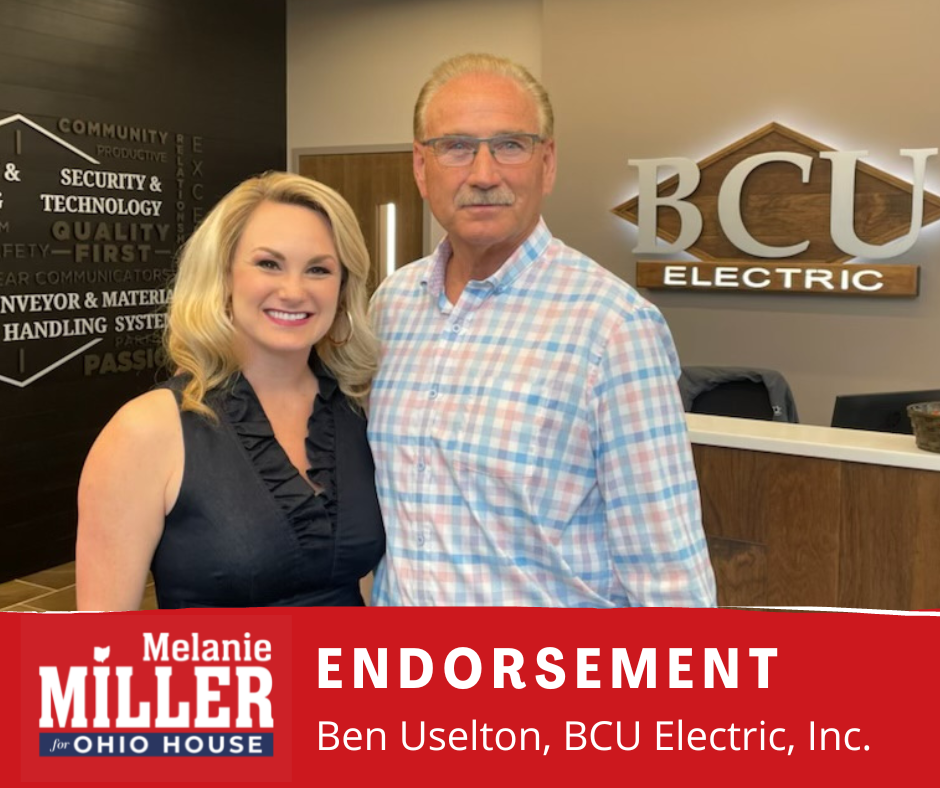 Dick & Ronda Poorbaugh
Grandpa's Cheesebarn
& Sweetie's Chocolates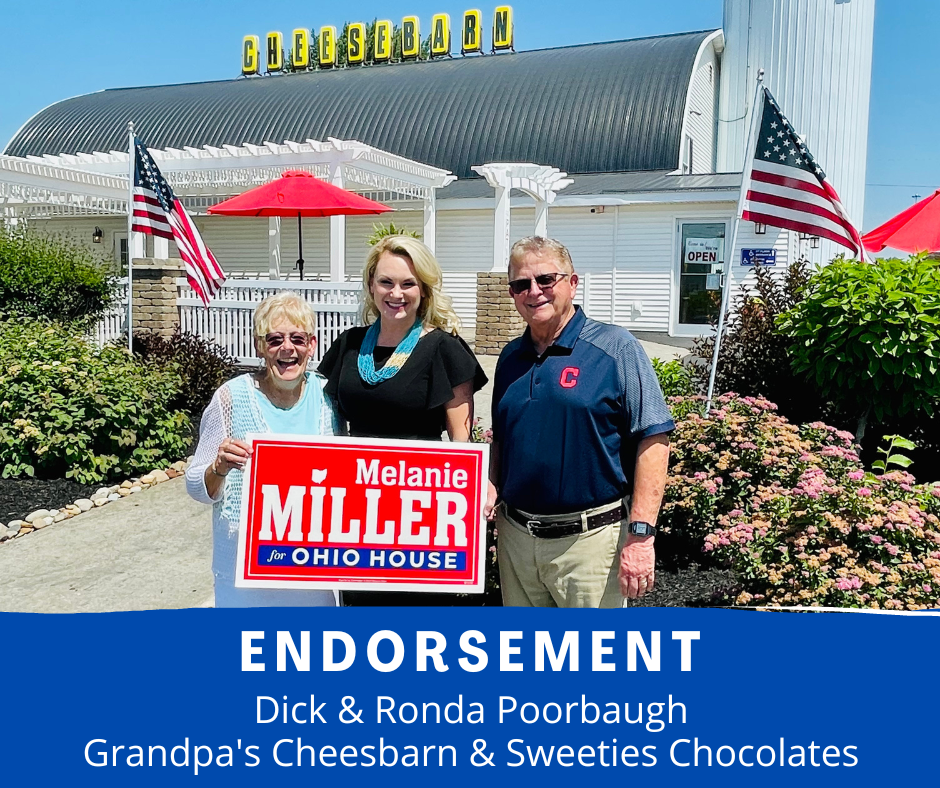 "We are excited to support Melanie for the Republican nomination to the Ohio House of Representatives. We believe she will represent our district in her core values of Life, Liberty and the Pursuit of Happiness for "We" the people."

---
Groups & Organizations
---
Gradings - Gun Rights & Medical Freedom